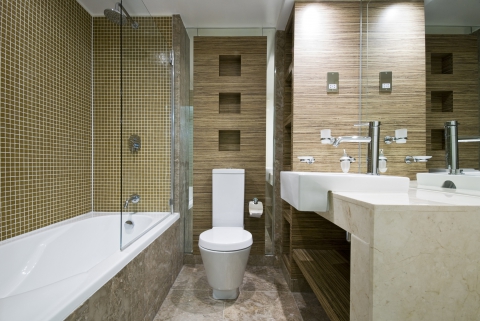 In our last article, we began to discuss a few priorities that you may have when it comes to finding the dream home. After all, that's what we're all about here at MortgageBase, connecting you with your dream home. That's why we provide our mortgage products, ranging from interest only super jumbo mortgages to fixed rate jumbo loans. In our last blog, we mentioned landscape & property, home amenities, and location. Today, we're going to take a moment to talk about space and special programming as they may be priorities in finding the perfect home for your unique desires.
If you have a large family or if you simply like to sprawl out, space may be an extremely important factor in your home search. If you're just looking for a bachelor pad, space may not play a major role in your decision. Now, if space is a priority, take the time to determine how much space you need. How many bedrooms would suit your situation? Do you need a guest room? How many bathrooms are necessary to make your castle comfortable? How much square footage is required in your upcoming abode?
At the end of the day, picking the right home may come down to the programming – an architectural term for purpose – of spaces around your home. It may be imperative that you have a detached garage to operate your personal woodshop. Or perhaps you want the ultimate entertainment room to house the latest video and audio technology. Maybe you're looking for a home with a pool for the kids. Regardless of your demands, special programming may weigh in as a major priority in choosing your next home.
Once you have found a home to meet your desires, it's time give us a call here at MortgageBase. We can connect you with a home loan product so that you can get the keys to your new castle. We specialize in providing jumbo and super jumbo interest only mortgages, 30-, 20-, & 15-year fixed rate loans, and fixed term ARMs.